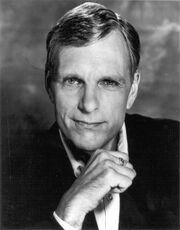 Keir Dullea (born May 30, 1936) is an American actor[1] best known for his portrayals of astronaut David Bowman in the 1968 film 2001: A Space Odyssey and its 1984 sequel, 2010: The Year We Make Contact.
Dullea studied acting at the Neighborhood Playhouse School of the Theatre in New York City. He has a long and successful career on stage in New York City and in regional theaters; he has even stated that, despite being more recognized for his film work, he prefers the stage.[2]
2001: A Space OdysseyEdit
In 1968, Dullea appeared as astronaut David Bowman in Stanley Kubrick's film 2001: A Space Odyssey,[3] which became a box-office success and was eventually recognized by critics, filmmakers, and audiences as one of the greatest and most influential films ever made. His line, "Open the pod bay doors please, HAL," is #78 on the American Film Institute's list of 100 movie quotes.
2010: The Year We Make Contact
Edit
In 1984, Dullea reprised his role as David Bowman in 2010: The Year We Make Contact.[4] 2010, Peter Hyams' sequel to 2001, was nominated for five Academy Awards.[5]
References
Edit
Community content is available under
CC-BY-SA
unless otherwise noted.