hello, i feel bad now, im sorry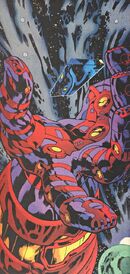 In
2001: A Space Odyssey
issue #8 (July 1977), a monolith gave sentience to a robot named X-51 (also known as "
Mister Machine
"). Before encountering the monolith, he is the only survivor of a series of robots, and raised as a human son of scientist Abel Stack, who was killed removing his auto-destruct mechanism. He eventually spun off his own title,
Machine Man
, who integrated him into the Marvel Universe. References from
2001
were mostly ignored, but in the final issue it was revealed that the creators of the monolith were the Celestials, who had sent it to help record vast amounts of data over the centuries.
Appearances
Edit
Monoliths often appear in cartoons when characters are exploring planets as a reference to the monoliths in the books and films.
Community content is available under
CC-BY-SA
unless otherwise noted.